Grand Cru The Rose Mask
provides ultimate skin rejuvenation with instant effect!

Designed for particularly demanding skin, the new ampoule mask with the exclusive extract from the Damascus rose immediately reduces the depth of wrinkles to leave your skin smooth, even and radiant. The simultaneously regenerating properties of the mask make the skin look refreshed and youthfully rejuvenated.
Content: 1 piece | £ 7,90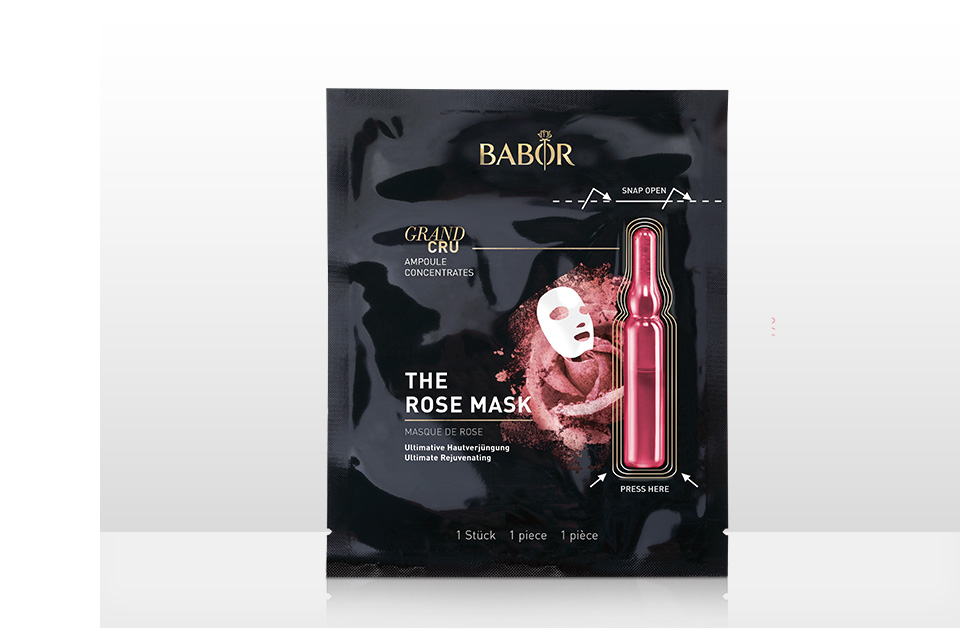 How do I activate the Ampoule Concentrates in the mask?
1. Fold the closed mask at the mark on the front of the outer packaging to open the ampoule freshness capsule.

2. Turn the outer packaging upside down and press firmly with both thumbs on the lower part of the ampoule freshness capsule to mix the concentrate with the mask by kneading gently.
Application:
After cleansing your face, apply the cloth mask to the face and allow it to to take effect for 10 to 20 minutes. Then remove the cloth mask and dispose of it. Pat the rest of the concentrate into the skin and then apply your usual skincare cream.
Tip: As an extra kick, you can use the mask in addition to starting and finishing your ampoule treatment.
* All prices incl. 20% VAT - plus £5.00 shipping charges - free shipping from £50.00