The Masterpiece Collection
BABOR x Paul Schrader
A PIECE OF ART TO TRANSFORM YOUR SKIN
The work of every artist is unique – influenced by expertise, techniques, and experiences. Just like the products we develop for you.
For this year's Limited Edition of our AMPOULE CONCENTRATES , internationally celebrated artist Paul Schrader created an exclusive work of art. It captures the color nuances of our six treatment series, making every treatment series its own mini masterpiece.
Our Masterpiece Collection at a glance
Vitality, protection, microbiome ENERGY For revitalized, strengthened, and refreshed skin in just 7 days.
Discover it now
Flawlessness, evenness, & radiance PERFECTION With the limited edition Phyto AHA Ampoule, which gives you more even and youthfully radiant skin in just 7 days.
Discover it now
Soothing, anti-redness, & rejuvenating REPAIR For skin that looks rejuvenated, relaxed, and recovered in just 7 days.
Discover it now
24h hydration, plumping, radiance HYDRA For maximum moisture and flawless looking skin in just 7 days.
Discover it now
Firming, smoothing, lifting LIFTING We're lifting the lid on the beauty secret behind smoother looking skin. The LIFTING treatment series for firmer, instantly smoother and younger-looking skin.
Discover it now
Purifying, mattifying, refining CLEAR We've put together this new treatment series for blemish-prone skin: For more balanced, clearer skin in just 7 days.
Discover it now
7-day treatment series Dull, dehydrated, stressed, or blemish-prone skin – the different ampoule treatment series of our Masterpiece Collection convince with visible results in just 7 days. How that's possible: the clever combination of effective active ingredients for every skin requirement. Our treatment series offer a targeted solution for your desired effect. They're perfect for testing! Secure your 7-day treatment series with savings up to 20%.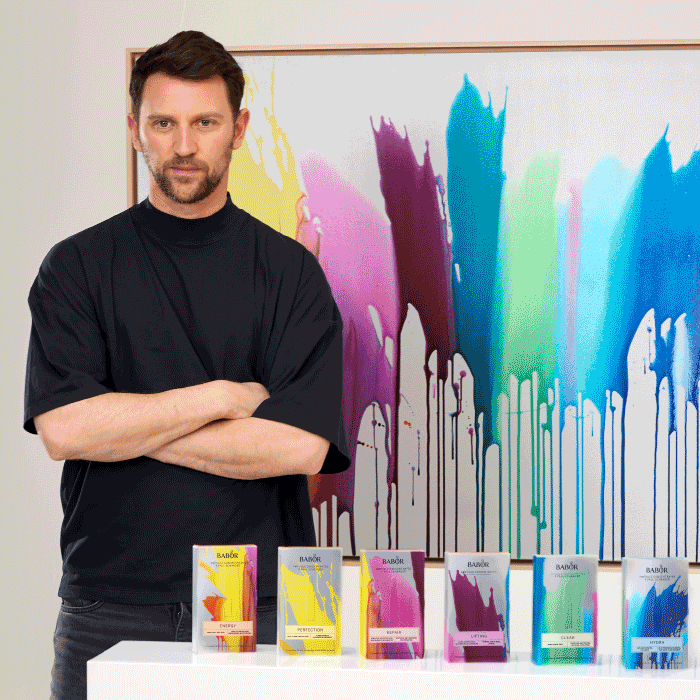 Meet Paul Schrader
He made quite the scene joining the art world. With his abstract art, mostly in expressive colors, he impresses art enthusiasts across the globe. How the BABOR masterpiece came into being? "It begins with a spark, followed by precise craftsmanship, until the perfect composition emerges."
Now even more sustainable
Our BABOR ampoule formulas are clean and consist of 97% natural ingredients. They are vegan and free from silicones, parabens, PEGs, synthetic polymers, and added color, as well as lactose, gluten, and mineral oil. The folding box is made of 100% recycled material, the ampoule opener is sustainable, and we do not use any cellophane.
BABOR x sustainability